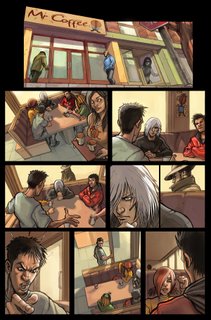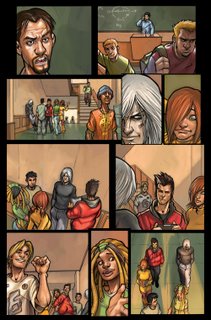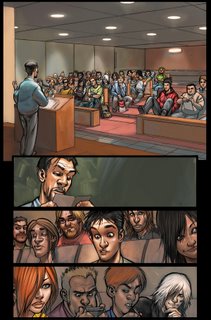 Since I posted 2 characters from DEFEX, I've chosen to post 3 pages of the comic book.
It was really funny to make...when I had to invent new chars, for a new comic book, I drew without conditionings. And that's great!
Most of the "wanna be" comic artists out there, should know how hard this job is.
You've to respect deadlines....even if the deadline means:"give me the book in 20 days, please".
You've to do the job on time: that's all. And you can't think so much about composition, storytelling etc...you've just to put your pencil on a paper and PRODUCE.
That's frustrating....but a great challenge.
All the big names out there can't menage a monthly book. They have much more time than a newcomer. And this is where you've to fight. You've to show to your editors they can count on you...You've to become the guy who CAN make the job on time...ALWAYS.
It works for the USA market...concerning France, artists have almost 1 year to complete just an issue of 48 pages...and it means QUALITY.
Jhon Buscema said:"When you work for the American market, you CAN'T produce the best you can...You can produce as you can"